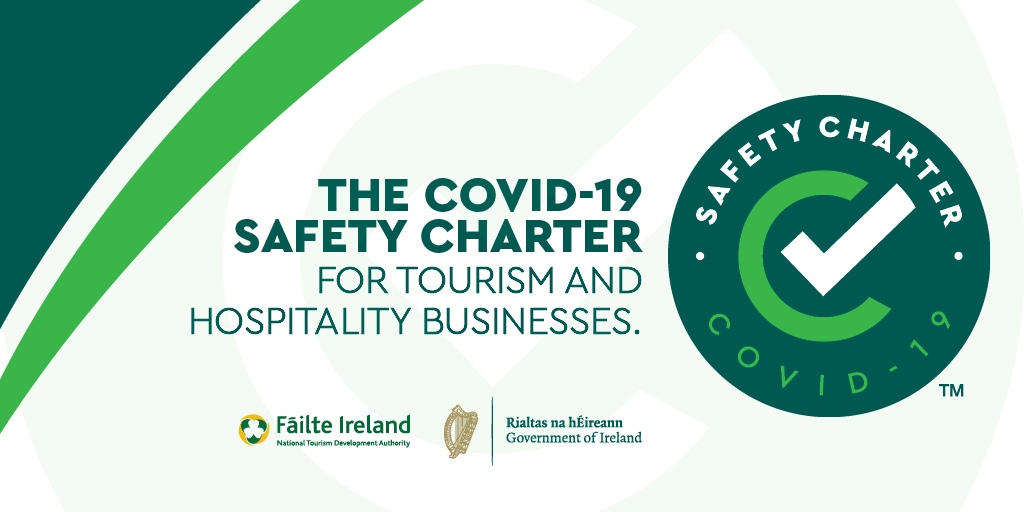 We do believe as we continue to live with Covid it will be a joint effort between our team and our guests, so we ask you to please use maximum common sense to play your part in keeping everyone safe. In return we will be doing the same for you.
For the 2022 season the house will only be open to those guests who have a room reservation or a dinner reservation.
You are welcome to continue to wear face masks if you would like to. Once you check-in, you will have a front door key on your fob to come and go as you please.
The windows will be open in the lounges and restaurant to allow the clean Donegal air to circulate, so please take an extra geansaí.
There will still be plenty of Covid 19 suppressions in place, including hand sanitisers and wipes which will be located in all areas throughout the hotel.
All staff have completed Covid 19 awareness training and advanced suppression training.
The friendly Donegal welcome will still await you.
Arrival:
To allow enhanced cleaning & sanitising of our rooms we would ask that you check in from 3.30pm - please do not bring your lugagge into the hotel until you have checked your room is ready - you are welcome to call reception to check. If you are travelling in a group please nominate one person to check-in.
In the rooms: all our regular amenities plus hand gel and disinfectant wipes along the corridors.
What's not in the rooms: guest folders, extra pillows/blankets.
Swimming Pool:
There will be a booking time sheet for the pool, please use this to book your swimming times so everyone can enjoy the facility safely. We would ask that you book on arrival rather than pre booking before arrival.
Please contact the hotel about activities within the locality, which you may be interested in participating in, so we can give you information.
Families:
We would ask families with small children to make their dinner reservations for the 6pm 6.15pm or 6.30pm slots.
Children's dinner menu available.
Barbara our childminder is available to pre book. Please contact reception fo her mobile number.
Breakfast:
Breakfast will be served from 8am-11am, we find the busier times are normally between 9:45am - 10:15am.
Lunch/Afternoon:
To allow for enhanced cleaning of your room we would kindly ask you to leave your room sometime between 11.00am-3.00pm. We will open the bedroom windows and leave them open to let the fresh air circulate.
We will have designated or reserved areas on the lawns for residents. Lunch will also be available in the lounges. You may have guests for lunch if you make a prior reservation with reception.
Dinner:
Dinner will be served from 6pm-8.30pm daily. The menu will change on a daily basis.
Pavilion:
Pizzas on the lawn this year will be served under our traditional, canvas king pole tent. (heated during the Autumn months)
Please book your table either through www.resdiary.com - Pavilion Rathmullan or by email direct to reception@rathmullanhouse.com
And so to bed:
Batts bar will shout last orders at 12 midnight for 12.30am.
Checkout:
Your bill be emailed to you on the morning of checkout and we ask you to vacate the room by 10:30am to allow for us to do our enhanced cleaning. If there are any discrepancies on your bill please dial reception on 0. At payment time we would remind you to adhere to social distancing.
Please drop your key to reception before checkout.
Thank you for your patience and co-operation but most of all for your custom and your trust in us.
Mark, Mary, Emily & Team.